A Christian Funeral
Do not grieve like those who have no hope.
– 1 Thessalonians 4:13
Why are these people singing joyfully at a Christian funeral?
Why are people singing joyfully at this Christian funeral?
It's a long story that I'll give you just a small portion of. Let me say first, though, that it is not only because the Bible says that Christians should not grieve at funerals, like others.
It is not enough that Christians should read the Bible and do what it says. God intends to display his grace and his glory through his people (Eph. 2:4-10), not merely display their willpower and self-control.
When God is allowed to work, the results are amazing.
Joy at a Christian Funeral
The picture above is from a recent funeral at Rose Creek Village. It seems like each time someone dies, our fear of death is decreased, not increased.
There was great peace at the death of Betty Raulerson, both within her family and among her friends. She was 77 when she died, so it was not unexpected, but the peace was more than comes from knowing it was Betty's time. The hand of God was seen everywhere.
Stories
Her granddaughter described one major source of peace.
Betty had struggled with lung problems for many years. Her granddaughter had prayed, "God, please don't let my grandmother die of lung disease. She's fought lung problems so long and so hard; don't let her be overcome. When it's time, let her heart give out instead."
That's exactly what happened.
It's just too hard to describe the supernatural peace that comes from God. People were joyous at this funeral because God was present, and it was very easy to be aware that life is more than what we can see.
The Coffin 
I'll try to get you a picture of the coffin. It was handmade by her grandson, and every child in the village put a colored handprint on it with paint. When there was still room afterwards, adult put their handprints and signatures on the bottom.
The funeral directors got a real kick out of that.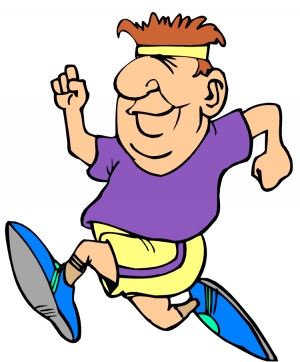 Fitness for Fat Guys Over 40
If you want to keep at it …
This is how.
(Just free info, nothing to buy there.)
We buried her on a hill on our land, and we sang songs there, too, enjoying the presence of God. Men and children alike shared in filling in the grave as a final tribute to a lady that we all loved dearly.
It was days later when we had the Christian funeral shown in the picture above, which gave time for relatives to come from all over the United States. Person after person told memories of Betty, and we sang songs of worship because we really do believe in eternal life.
---